Triamant- Our surface-hardening material
Triamant is a surface-hardening material (electrode), which also includes a line of products using surface-hardening powders, which was invented through long years of experience and experimentation of surface hardening techniques by Hitachi Tool Engineering Co. Ltd. Hitachi Tool Engineering has subsequently transferred this technology to Mizuho Industries.
Wear-resistant, shock-resistant, and weldable, Triamant boasts all three of these characteristics- a difficult achievement-at a high standard. This makes it the optimum material for machine parts used in rigorous environments, drilling and excavation tools, as well as a myriad of other uses. We strictly manage the content level of carbon and impurities, and maintain the hardness at a level between Hvl800~2200. Wettability between iron-based and copper-based metals is high. Triamant is a W2C-WC eutectic alloy that is robustly wear-resistant.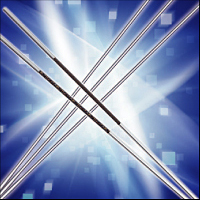 Triamant Powder (K Metal)
Triamant powder is a W2C-WC eutectic alloy powder that is produced through a unique tungsten-melting technique. The crystalline structure of this powder is both dense and refined, making it a hard powder that is second only to diamond in its resistance to wear. Though WC is incredibly hard, W2C retains a degree of toughness that works to support the brittle nature of WC.
Coarser versions of the powder are predominantly used in the oil and logging industries, and have earned a high level of trust for their exemplary contribution to excavation and drilling. For uses that place more of a focus on wear-resistance, we offer and recommend the finer powders.
Triamant Gas Welding Rods
Triamant gas welding rods are made by enclosing hardened Triamant into a pipe, along with flux to facilitate welding. These come in standard diameters of 3.5mm or 5mm, and standard lengths in 400mm and 800mm. For excavation, please use the coarser KG-5, and for wear-resistance purposes, please use the finer KG-3S, KG-5S, and the KG-3.
Triamant Electrodes
For uses that emphasize wear-resistance and do not involve excavation/drilling, arc welding may be more efficient. Gas welding results in less instances of cracking, but electrodes are recommended for cases where wide areas are to be subjected to hardening. Furthermore, for arc welding, we've included a membrane to facilitate flux processing.
Triamant Surface-Hardening Material Overview Chart
Classification
Product No.
Use
Particle Size (Mesh)
Chief Elements
Hardness (HV)
Triamant Powder
K-25
Excavation
20 - 30
W2C-WC
Particles: 1800 - 2200
K-80
Matrix Hardening
50 - 100
K-150
100 - 200
K-250
200 - 325
K-400
325以下
Triamant Gas Welding Rods
KG-3
Hardening of tips
30 - 100
W2C-WC-Fe
Particles: 1800 - 2200
Ferrites: 600 - 1000
(HRC55 - 69)
KG-5
Hardening of flat surfaces
20 - 50
KG-3S
Wear-resistance hardening
-50
KG-5S
-50
Triamant Electrodes
KE-3
Wear-resistance hardening
30 - 100
W2C-WC-Fe
Particles: 1800 - 2200
Ferrites: 900 - 1050
(HRC67 - 70)
KE-5
20 - 50
ME-3S
Wear-resistance (Focus on hardening efficiency)
-40
Particles: 1000 - 2000
Ferrites: 550 - 600
(HRC5 - 55)
Noko Tube Gas Welding Rods
MG-3S
Wear-resistance hardening
-40
W2C-WC-Fe
Particles: 1600 - 2000
Ferrites: 600 - 700
(HRC55 - 60)
MG-5S
-40
Tungsten Gas Welding Rods
SG-3F
Wear-resistance (Shock resistance)
-40
WC-Co-Fe
Particles: 1000 - 1500
Ferrites: 300 - 600
(HRC30 - 55)
SG-5F
12 - 100
Welding Process When Using Triamant
(1) Acetylene Gas Welding Process
Instructions
Reasons
I

Welding Design

1.Have at least 2R for the corners.

2.Keep welding thickness to a maximum of 8mm and 3 layers.

3.If hardening on high Manganese steel, underlay a layer of stainless.

1.Cracking prevention

2.Securing shock-prevention characteristics, as well as preventing cracking

3.Preventing separation from incomplete welding

II

Base Material Conditions

1.Remove oils, residue, and scales via sandblasting, air grinding, wire brushing, etc.

2.Heat as much of the material as you can using a furnace or a burner.

1.Scales, rust, etc. increase the amount of slag produced, and may result in bubbling.

2.Failing to do so may result in cracking during cooling, or separation from the base metal due to incomplete welding.

III

Flame Adjustment

Use gas-induced excess flames (reducing flames). (Low oxygen pressure)

By covering the entirety of the welding surface in flames, oxidation of the Triamant within is prevented, allowing its characteristics to work effectively. If the Triamant is exposed to oxidizing flames, it will oxidize, and/or if the Triamant is subjected to high oxygen pressure, it will scatter. If the Triamant scatters, there will not be enough Triamant on the welding layer. When using fine Triamant powder such as KG-3 and KG-5S, we recommend an even longer fire.

Flame Structure - Wikipedia
IV

Welding Start Time

Start welding when the base metal starts to sweat, but before it can start to melt.
If you start welding before the metal starts to sweat, this can result in the weld being incomplete. On the other hand, over-melting will cause the hardening particles to sink, resulting in lowered performance.
V

How to Melt the Triamant Rod

Melt the welding rod over a burner, and then push it into the base material when the base material is sweating. During this process, try to restrict overflow of molten metal as much as possible.
If there is too much excess molten metal flow, the Triamant will sink to the bottom of the welding layer and will not be distributed evenly across the surface.
VI

Post-Welding Steps

As a general principle, Slow cooling the welded material is a necessary step. If the welded material is to be subject to grinding, please use the GC whetstone.
Slow cooling will prevent the material from cracking. Because the welding rod is an expensive material, we would like for grinding to occur minimally, as to be economical.
(2) Arc Welding Process
I. Heat the material as evenly as you can, using excess heat, to prevent cracking.
II. Use the appropriate voltage.
| | |
| --- | --- |
| Product Number | Amperage |
| KE-3 | 80 - 100A |
| KE-5 | 890 - 120A |
III. Weld slowly, in a straight line, using a short arc and avoiding weeping.
IV. You can use both direct and alternating currents.
Uses for Triamant Powder
Field
Use
Triamant Powder Type
Petroleum Excavation

Roller bits
Tool joints
Core drilling crowns

K-25
Stone/Woodcutting

Stone cutters
Grinding wheels

K-25
Machine Tools
Deburring tool (Melting/casting deburring)
K-25
Graphite/Rubber whetstone
K-25 - K-80
Steel cutter/band saw blades
K-25

Whetstones for forming dressers
General dressers
Handstones

K-25 - K-80
Polishing powders
K-80 - K-400

Anti-skid plate
Supporters

K-25
Plasma Spraying
Surface hardening
K-150 - K-400
Diamond Tools

Diamond bits
Diamond whetstones

K-80 - K-400
Uses for Triamant Welding Rods
Field
Use
Triamant Powder Type
Petroleum Excavation

Tricone bit
Roller bit gauge section
Stabilizer fins
Fishtail bit
Reamer

KG-3 KG-5
Mining/Coal Mining
Drilling bit
KG-5
Hardening of drill bit gauges
KG-3

Mining cutters, drills
Conveyor rollers, augers

KG-3 - KG-5
Civil engineering/Construction
Earth drills (tip of reverse blades, etc.)
KG-5

Swing hammers, sand pumps, conveyor screws
Scrapers, levelling planks, power shovel buckets, bulldozers
Blades, concrete breakers, crusher blades, earth augers
Road scrapers, power shovels, boring tools
Pumps, screws, boring core bits, shield cutters

MG-3S,MG-5S
KG-3S,KG-5S
KE-3,KE-5
Casting Industry

Fans on moulding sand processing machines
Casting machines

KG-3S,KG-5S
KE-3,KE-5
Shot blast machine blades
KG-3S,KG-5S
Ceramics/Cements

Milling, Hammer crusher
Shearing blades, mixer blades

KG-3S,KG-5S

Casing, cement pump screws
Mill hammers, plows

KE-3,KE-5S
Harbours/Agriculture

Dredger knives, buckets
Pump casings, rotary tiller fans

KG-5,KG-5S